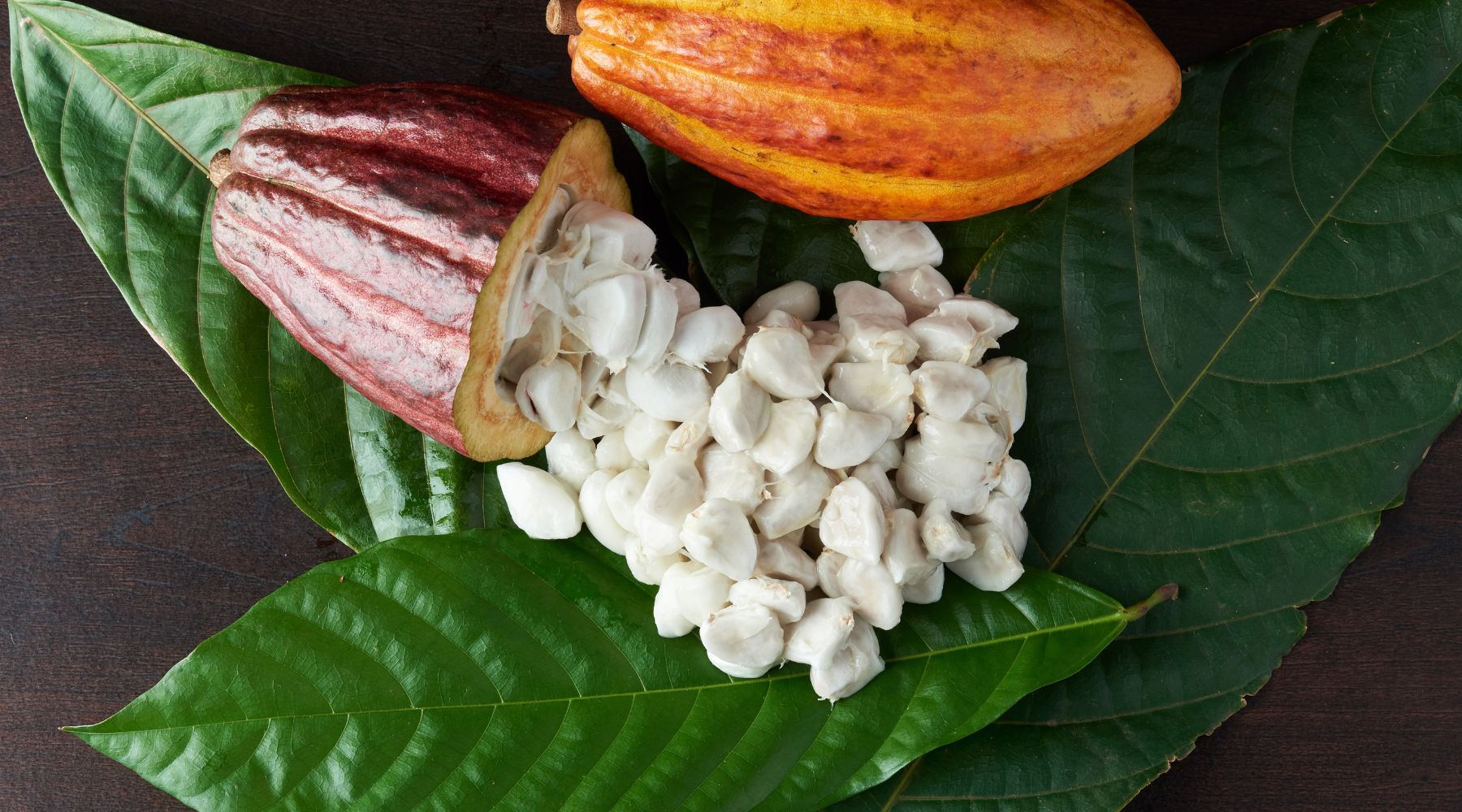 How can the Whole Cacao Pod be Upcycled? Cacao Fruit
When a fresh cacao pod is cut from a cacao tree and then chopped open to remove the beans for processing, a whopping 70% of the pod is destined to become waste. The cacao pod husk might be left in the field to rot, excess cacao fruit pulp is drained off during fermentation, and the cocoa bean shell is winnowed away to reveal the prized cocoa beans that will become a chocolate bar or truffle.
With so much unused material, cacao provides an excellent opportunity for upcycling. All parts of the cacao pod could be diverted from the waste stream into value-added products that increase the income of grower communities. In this series, we will explore beneficial uses for the byproducts of the chocolate industry, beginning with the cacao pulp and placenta.
The Cacao Fruit: Pulp and Placenta

Cacao beans are wrapped in white, fleshy fruit pulp around a placenta at the center of the pod. This sweet, tangy juice ferments around cacao beans during the first step of their transformation into chocolate. Although pulp is essential to develop the best chocolate flavor, removing some pulp juice before fermentation can actually improve cocoa quality. That means as much as 75% of pulp can be used for other tasty purposes3,8.
The placenta is like a stalk that runs through the center of a cacao pod. Each cacao bean is attached to this stalk by a strand called a funicle. For the best cocoa quality, the placenta is removed from the cacao beans prior to fermentation1.
These two materials – the pulp and placenta – compose the cacao fruit, which has traditionally been used as a drink in grower communities. Naturally sweet and packed with antioxidants and vitamins, cacao fruit is sold on its own or added as an ingredient to many newly-developed products. Let's explore some of the creative ways cacao fruit can be eaten.
Upcycled Foods from Cacao Fruit
Cacao juice: juice from cacao pulp is enjoyed fresh from the pod in farming communities and can be pasteurized and shipped around the world5. It is then mixed with filtered water, seltzer, or kombucha. Most companies offer an option with just cacao fruit while some sell flavors like ginger and lime, mango, and cherry. Brands with products available or coming soon include Pacha de Cacao, BevCacao, Blue Stripes Urban Cacao, Kumasi Drinks, Bantu Chocolate, and Xoca. Koa produces juice in Ghana for wholesale customers.
Cacao pulp puree: marketed as an energy-boosting quick snack or a fruit puree that can be used like apple sauce or jam, the 100% pure cacao fruit puree doesn't have added sugar, water, or flavors. Cocoa Supply from Ecuador is a major supplier of this product in 1 kg and 90 g pouches. Ecuadorian conservationists Mashpi Chocolate Artesanal offer a 4 oz sachet. Tiny House Chocolate sells jars from Brazil. Mindo Chocolate Makers sells a similar "cacao fruit syrup" in four sizes from a 3.75 fl oz jar to a 28 kg keg. Barry Callebaut, an industrial maker, also offers a line of cacao fruit pulp, juice, juice concentrate, and powder under its Cabosse Naturals brand.

Jam and marmalade: with its own unique flavor, cacao fruit marmalade can be used just like traditional fruit jam or marmalade2,5. It's more commonly produced on an artisanal basis within grower regions, but The Xocolate Bar has made a cacao fruit jam commercially. Recipes for berry-cacao fruit jam made from pulp puree are readily available online.
Jellies: sugar-crusted jelly candy made from cacao fruit is yet another sweet way to enjoy this fruit. The Xocolate Bar is a chocolate maker branching into this cacao-based product.
Pectin: cacao fruit is excellent for marmalade and jellies because cacao pulp juice produces commercial-grade pectin that can be used for gelling, thickening or stabilizing food products. The quality of pectin derived from cacao fruit is similar to pectin from traditional fruit sources like apples or lemons5,6. No major pectin producer has announced sourcing pectin from cacao fruit, so it's unlikely pectin from cacao fruit is being produced at a commercial scale at this time.

Dried cacao fruit: fruit strips, also called fruit leather, can be made from dehydrated cacao fruit and used as a snack. A few companies selling dried cacao fruit include Hana Gold, Madre Chocolate, and Blue Stripes Urban Cacao.
Freeze-dried powder: once dried, cacao pulp powder is shelf stable for storage until it is mixed into a ganache, rehydrated for cacao juice, or sprinkled into a smoothie. Cocoa Supply from Ecuador and Revival Cacao from Mexico both sell this product.
Snacks with cacao fruit ingredients: from CaPao cacao fruit bites by Mondelez to whole cacao trail mix and granola by Blue Stripes Urban Cacao to cacao fruit crisps by The Cacao Fruit Co., cacao fruit is showing up as an ingredient in many snack foods.
Chocolate bars sweetened with cacao fruit: makers are replacing sugar with cacao fruit in chocolate bars for a more natural, fruity taste. Mashpi Chocolate Artesanal's origin-made, pulp-filled bar frequently sells out, as does the triple cacao bar from Madre Chocolate. Other chocolate brands making bars with cacao fruit include Santa Barbara Chocolate, Coracao Confections, and Blue Stripes Urban Cacao.
Alcoholic beverages: cacao pulp juice and the placenta can be fermented and distilled into brandy or gin. It can also be made into wine or vinegar5. Like cacao marmalade, this is more common on a small scale in cacao-producing regions. A few companies have commercialized cacao-based spirits. Revival Cacao from Mexico, sells a high proof cacao pulp distillation for bitters and other extracts. Belgian brewer Acan introduced the Mallow Tree sour ale with 20% cacao fruit juice.
The Potential for More Innovation
These existing and emerging products from the pulp and placenta are just a starting point. At Cocoa Future Collaborative, we believe there are new products yet to be discovered. Too often, we confine ourselves to the same routine of processing for export instead of asking what else is possible from this superfruit.
Women in cocoa-farming communities are uniquely positioned to lead the way in the innovative work of creating new recipes with cacao pulp. They have access to fresh pods from their own trees, knowledge of other native species, and deep experience in the kitchen. As we work with women's groups, there is no shortage of new product ideas – it's starting a business and getting those ideas to market that's the challenge. That's where the Collaborative comes in. We provide coaching and training to get new products and recipes to market. We look forward to seeing their new ideas come to fruition. 
Note on Product Links
Many of the products mentioned in this article are either made by startups or part of experimental product lines. As such, links may no longer be active if a product is out-of-stock, discontinued, or if the company has closed. While we strive to keep all links accurate and up-to-date, there may be occasional broken links.
References